Totally delicious and perfect for breakfast on your way to golf or a snack on the 4th hole. Strawberries are rich in the essential nutrients vitamin C, potassium, folic acid, and fiber. One cup of fresh strawberries contains 160 percent of the daily recommended quantity of vitamin C. Love these babies, there's nothing better than a sweet strawberry and with all the nutrients she brings perfect for an energy burst on the course, home grown Australian !

One of my favourite breakfast meals is yoghurt, home made granola, strawberries, raspberries and blueberries. I'm often throwing it down as I'm dashing out the door for an early tee time, but now I've found this gem I can make getting away a little less stressful.
Strawberry Cheesecake Breakfast Bars
Makes 9 to 12 bars
For the crust:

1 3/4 cups(175g) rolled oats (certified gluten-free, if needed)
1 3/4 cups(160g) sliced raw almonds
1 teaspoonbaking powder
1/2 teaspoonbaking soda
1/4 teaspoonkosher salt
1/4 teaspoonground cinnamon
4 tablespoonscold unsalted butter, cut into 1/2-inch pieces, plus more for pan
2 tablespoonspure maple syrup
1/4 cupapplesauce

For the filling:

2 cups (roughly 3/4 pound) ripe strawberries, hulled and cut into small pieces
1 heaping tablespoon sugar (coconut sugar)
2 teaspoons lemon juice
2 tablespoons cornstarch
4 ounces cream cheese, softened to room temperature
1/4 cup plain Greek yogurt
Preheat the oven to 180°C. Butter an 8×8-inch square pan.
In the bowl of a food processor, pulse 1 cup of the oats until they're just beginning to break down, about 30 seconds. Add 1 cup of the almonds and continue pulsing for 45 to 60 seconds, or until both have combined into a fragrant, sandy, coarse-looking meal. Add the baking powder, baking soda, salt, and cinnamon, and pulse to incorporate. Finally, add the butter and process until it's broken up into little pea-sized pieces. Add the maple syrup and applesauce and pulse to moisten. The mixture should be clumping together at this point. Pour into large mixing bowl and fold in remaining 3/4 cup oats and 3/4 cup sliced almonds. Set aside.
In a separate mixing bowl, toss together the strawberries, sugar, lemon juice, and cornstarch. In another small bowl, whisk together the cream cheese and yogurt until creamy.
Take about 2/3 of the oat mixture and press gently into prepared pan. Make sure the bottom of the pan is completely covered. Dollop the cream cheese layer on top of the crust, then spread it as best you can. You don't want to disrupt the crust layer so I usually use my hands to quickly shimmy the cream cheese around – it doesn't need to be a smooth layer, as it will melt into place in the oven; even just dolloping the cream cheese over the oats will work fine. Spread the strawberries evenly on top of the cream cheese layer and scatter the remaining oat mixture across the top of the bars in small chunks, aiming to cover as much of the strawberries as possible.
Bake for 30 minutes, then remove from oven. Give the bars a gentle press with the back of a spatula to help set ingredients. Place back in the oven and bake for an additional 5 minutes, or until golden on top. Let cool completely before slicing.
Recipe Notes
These bars are the very best the day they're made, you may certainly cover and refrigerate them for up to 3 days – I think they're really best at room temperature, so let them warm a bit after taking them straight from the refrigerator.
I've dropped the link for full recipe details below.
https://www.thekitchn.com/recipe-strawberry-cheesecake-breakfast-bars-recipes-from-the-kitchn-217377
These little breakfast cups are such a cool idea – How To Make DIY Instant Oatmeal Cups!
What Are Instant Oatmeal Cups?
The idea behind instant oatmeal cups is simple: Put oatmeal, a little thickener, and your favorite toppings in a jar that is just waiting for warm water whenever you're ready to eat. Similar to creating bags of your favorite instant oatmeal at home, these cups have the added utility of being eaten straight from their jars. Made with rolled oats and thickened with oat flour and cooked with hot water or the microwave, the resulting oatmeal is a tiny bit chewy with plenty of sweet creamy texture. (You can add more milk or water to thin the oatmeal to your favorite consistency.)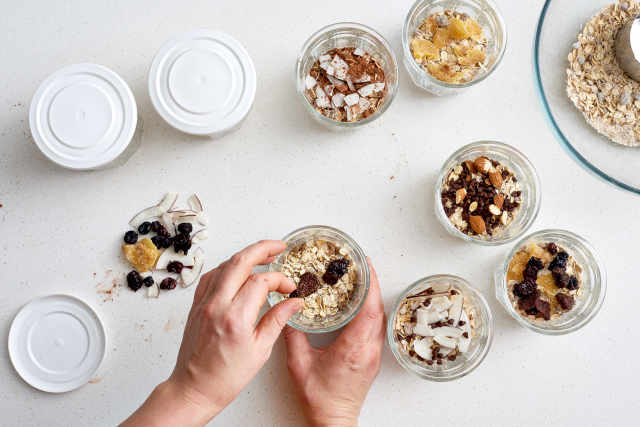 Key Steps for Instant Oatmeal Cups
For creamier oats, use oat flour: Sure, you can put oats in a jar and then cover them with hot water and get a pretty decent cup of oatmeal, but for a creamy cup of oats that tastes like it was cooked on the stovetop, a few tablespoons of oat flour per cup makes the difference.
Layer the toppings on last: This is as much for aesthetics as it is for making sure that the oats cook evenly and the toppings stay crisp or chewy.
Cover to cook before serving: There are two ways to cook the oatmeal when you're ready to eat — more on that below — but be sure to cover the oats after adding the hot water or after microwaving so they continue to cook.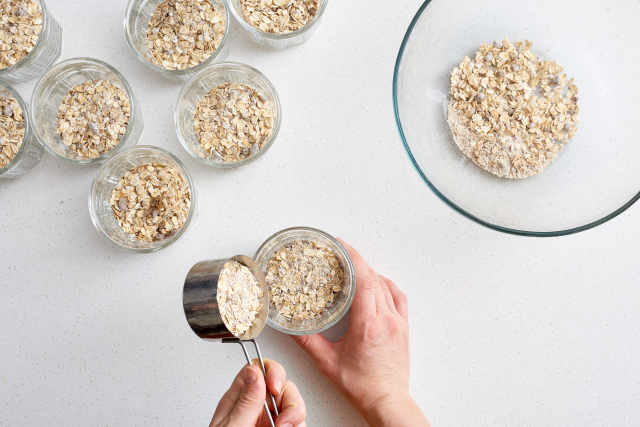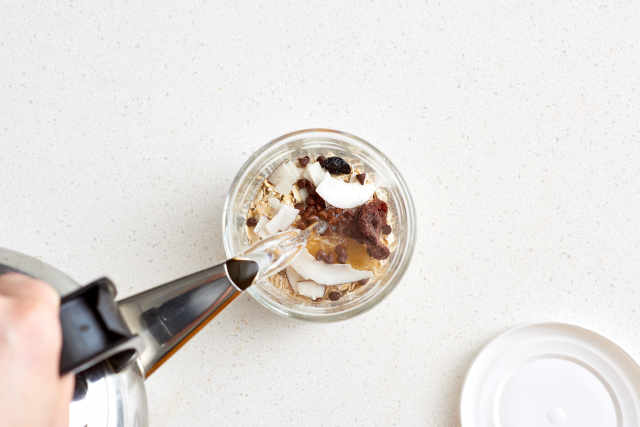 Storing and Serving DIY Oatmeal Cups
Store your ready-to-eat oatmeal cup in a cool, dark place like the pantry, where well-covered they'll keep for up to three months.
When you're ready to eat, there are two ways to cook the oatmeal. The first option is to add 1/2 cup (or more) of boiling water to the jar, stir, cover, and let sit for 5 minutes. The oats and oat flour will absorb the water, making a perfectly creamy cup of oats. The second method is to add 1/2 cup (or again more, if you prefer a thinner oatmeal) cool water to the jar and microwave the jar, uncovered, for 3 minutes and then remove the jar from the microwave, cover, and let stand 2 minutes. Either way, this is like a little gift to my snooze-button-loving future self.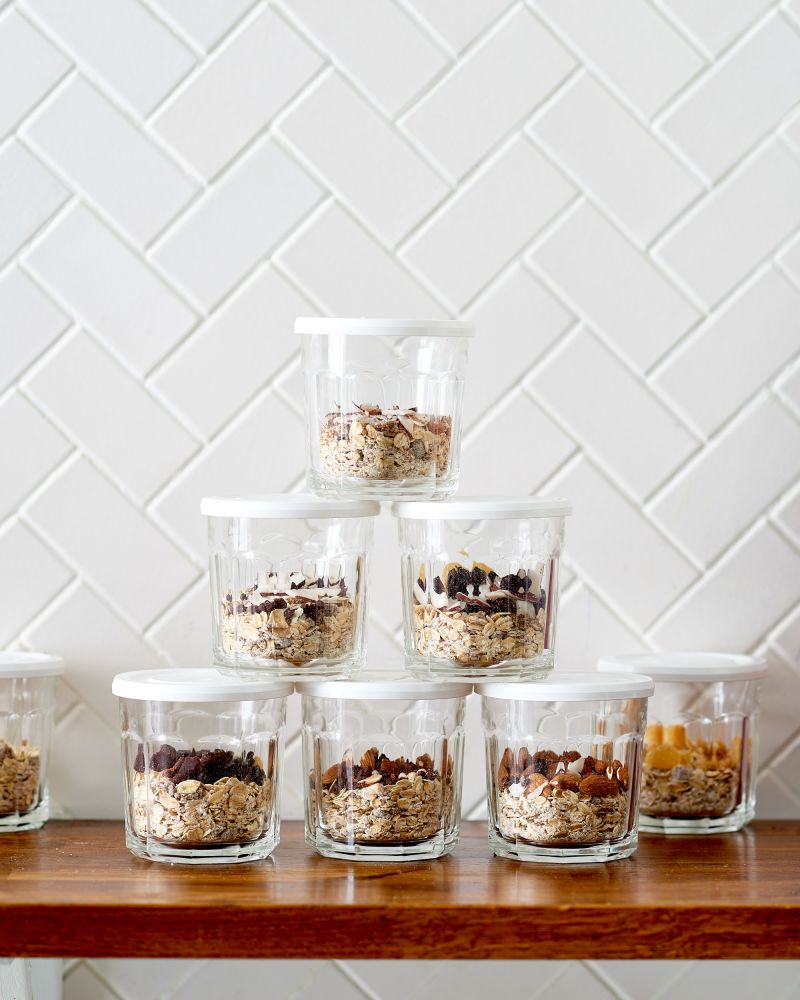 How To Make DIY Instant Oatmeal Cups
Makes 8 oatmeal cups
What You Need
Ingredients
5 cups old-fashioned rolled oats, divided
1/2 cup packed light brown sugar
1 teaspoon ground cinnamon
1/2 teaspoon kosher salt
Optional add-ins (amount per cup):
1/3 cup dried fruit, such as raisins, chopped apples, cherries, or strawberries
1/4 cup coconut flakes
1/4 cup chopped nuts
2 tablespoons mini chocolate chips or candied ginger
Equipment
Large mixing bowl
Measuring cup or measuring spoon
Food processor or small spice grinder
8 (8-ounce) jars or cups with lids
Instructions
Pulse 1 cup of the oats into oat flour. Place 1 cup of the oats in the bowl of a food processor fitted with the blade attachment or small spice grinder and pulse until the texture of cornmeal. This oat flour will help thicken and make the instant oatmeal creamy. Transfer to a large bowl.
Combine the oats, flour, brown sugar, cinnamon, and salt in a large bowl. Add the remaining oats, brown sugar, cinnamon, and salt, and stir to combine.
Divide the oat mixture into 8 (1/2-cup) servings. Divide the oat mixture into 8 jars or other lidded containers such as disposable coffee cups (1/2 cup in each). Add any optional toppings to each jar.
Seal and store. Cover the jars and store at room temperature until ready to use.
To serve. When ready to serve, add 1/2 cup of boiling water to each jar. Stir to combine, cover again, and let sit for 5 minutes.
Recipe Notes
Microwave directions: Alternatively, you can add cool water and microwave on high for 1 minute. Let sit 2 minutes and enjoy.
Gluten-free: For gluten-free oatmeal cups, check the package label to make sure the oats have been processed in a gluten-free facility.
Storage: The jars can be stored at room temperature for up to 3 months.
https://www.thekitchn.com/how-to-make-diy-instant-oatmeal-cups-at-home-253452
Nikki xx